AUH Hydraulic Actuator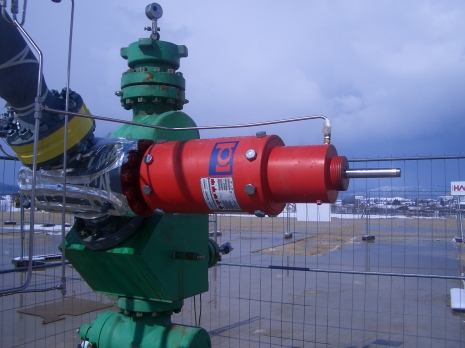 For General Purpose or High-Pressure Applications
Halliburton's AUH Hydraulic Actuator is designed for simplicity, ease of maintenance and adaptability. It has fewer parts than most other hydraulic actuators, which improves field performance. This actuator is designed to close upon loss of control pressure (fail-safe).
The actuator's unique design has no travelling seals, which contributes to the longevity of the seal packages. Optional cold service seal packages enable the actuator to exceed performance standards for cold, hostile environments.
Limit switches, valve position indicators, fusible and standard lockout caps, stem protectors, mechanical and hydraulic opening assemblies are also available.
ADVANTAGES
Fewer parts - improves performance and reliability
Standardized lower stem sizes - simplifies spare parts requirements
Proven reliability API 6A, PR-2 Appendix F qualified packing
Easy maintenance - can be redressed without special tools or external pressure sources. Piston and upper stem packing is easily removable utilizing actuator service disconnect bolts.
Visual Open-Close Indication - upper stem extension indicates gate position at a glance.
POSITION INDICATOR
CE-Conformity,ATEX approval
OPERATION
Hydraulic control pressure enters the cylinder. The extended stem travels downward until it is practically flush with the top of the cylinder, indicating the valve is open. The piston shoulders against the packing retainer and stops further downward force. The gate valve is fully open. The actuator is designed to maintain the valve (reverse-acting) in the open position with hydraulic pressure on top of the piston. Loss of hydraulic pressure allows pressure in the valve body and spring force to move the stem and gate into the closed position.
The extended stem indicates the valve is closed. The metal-to-metal seat between the actuator bonnet and lower stem serves as a secondary seal. Upstream valve body pressure holds the gate in the closed position. The spring allows the gate to close with less than 100 psi pressure on the valve body.