Blowout Preventer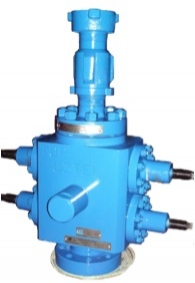 General
The PSTP and PDTP BOP´s are horizontal, single (PSTP) or dual rams (PDTP) blowout preventers with or without side outlets with manual actuated rams. Further they are equipped each with a bonnet to enable ram replacement.  
Introduction
The BOP´s type PSTP and PDTP shall be mounted on the well head to seal off the tubing to atmosphere in case of a blow out / spill out after rod failure or other emergency cases, as well as during work over on polished rod.
Depending on the shape of the rams the following functions are realised:
• Sealing off the annulus between tubing and sucker rod.
• Sealing off the tubing to atmosphere when the sucker rod is extracted from the borehole.
• Directing the fluid lifted from reservoir through the side outlets to the storage tanks.  
Description 
BOP´s are provided at their top and bottom with connection flanges and with or without side outlets. Inside the body one or two pairs of rams are mounted to seal off (item 12 – fig. 3 & 4). Depending on the needs, the rams could be shaped for sealing off the sucker rods or for total sealing off the well.
The rams are actuated towards the closing / opening of the BOP by turning the stem of the rams (item 4 - fig. 3 & 4).
Access to rams for replacement or repairing is given by dismantling the bonnets 
This design solution of the blowout preventer gives a high degree of sealing efficiency, of operational reliability, fast and comfortable handling, simple maintenance, reduced weight and size.
Among the factors which contribute to these performances are:
•The ram assy design assures the "self-packing" effect, meaning that the fluid pressure helps sealing of the rams.
•Monoblock design of the preventer avoids any misalignment of the sucker rods, the total height is little and the number of parts is reduced.
•The top and bottom connections are available flanged or threaded.