AUD Pneumatic Actuator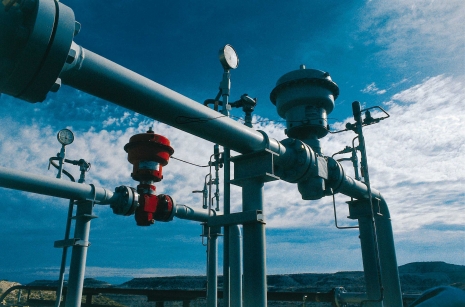 For Applications where Line Pressures are 10,000 PSI or less
Halliburton's AUD Pneumatic Actuator is designed for simplicity, for easy maintenance and adaptability. Its modular design and small number of components improve field performance. This actuator is designed to close upon loss of control pressure (fail-safe).
The actuator's nylon reinforced diaphragm has a large piston area allowing for a low control pressure (see charts). The maximum control pressure is 150 psi.Due to its fail-safe design, the actuator is ideally suited for wellhead, flowline, header, pipeline system and casing relief blowdown valve applications. Actuators are available for API gate valve sizes from 1 13/16 in. through 12 in and larger upon request.
Limit switches, valve position indicators, fusible and standard lockout caps, stem protectors, mechanical and hydraulic opening assemblies are also available.
ADVANTAGES
Less Maintenance - The rolling diaphragm design eliminates moving o-ring seals and leads to longer seal life.
Proven reliability – API 6A, PR2 Appendix F qualified packing.
Lightweight – Easy to install and maintain. Can be redressed without special tools or external pressure sources.
Quick Disconnect – Actuator can be removed from the valve without use of special tools or external pressure source.
Large Diaphragm Area – Permits use of a low pressure air or gas control system. A relief valve on the cylinder acts to protect against damage to the diaphragm in case of excessive pressure increases.
Visual Open-Close Indication – Upper stem extension indicates gate position at a glance.
OPERATION
Pneumatic control pressure enters the cylinder. The extended stem travels downward indicating the valve is open. The adjustable downstop stops further downward movement. The gate valve is now fully open. The actuator is designed to maintain the valve (reverse-acting) in the open position with pneumatic pressure on top of the diaphragm.
Loss of pneumatic pressure allows pressure in the valve body and spring force to move the stem and gate into the closed position.The extended stem indicates the valve is closed. The metal-to-metal seat between the actuator bonnet and lower stem serves as a secondary seal. Upstream valve body pressure helps to hold the gate in the closed position. The spring allows the gate to close with less than 100 psi in the valve body.